In the SIM List, use the Advanced Filter so that only the SIMs for which you wish to change email addresses are shown
Select all the SIMs by clicking on in the ICCID column header until it displays .
Select 'Edit emails'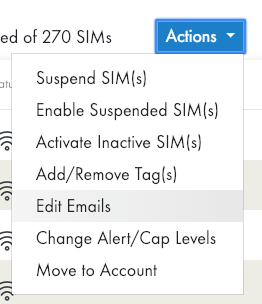 To remove any email addresses, click the 'X' next to it. To add new email addresses, enter them in the 'Add email(s)' box and click away.

Click 'Apply'. The result of the operation is displayed.