Note that only users of type Admin can set SIM Data Caps and Alerts.
In the SIM List, click the SIM for which you wish to set a data cap or alert. The SIM Details are displayed.

Click

next to the cap or alert that you wish to change. Make the change and click away.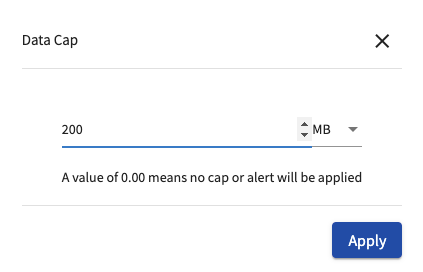 A confirmation message is displayed. The data alert level is automatically adjusted to be 80% of the cap level. You can adjust the alert level if required.

Note:
When changing the cap level, the cap will not be automatically reset to the original level at the start of the next billing period.
Setting the cap level to zero, removes any cap.
MNOs report usage periodically, and a SIM alert or cap will not be triggered until the data usage has exceeded the threshold. Hence the usage for a SIM may show more than the configured alert or cap level. However, when a cap threshold has been exceeded the SIM will be blocked and no more sessions will be allowed.
Some MNOs do not report usage during data sessions. Consequently, for those MNOs, SIM alerts and caps will only be triggered at the end of the data session.
If the SIM has exceeded its contracted inclusive allowance, overage charges will apply.
Data usage shown is indicative and may differ from that shown in your monthly bill.
Hard Caps
Some SIMs support the ability to request the MNO to terminate a data session when the cap level is reached (in addition to preventing further data sessions). Those SIMs have the following tick box when setting the cap level: