An Advanced Filter is a powerful way to group SIMs together based on a defined set of parameters. It's available on the SIM List.

Just click 'Advanced Filter' to display it.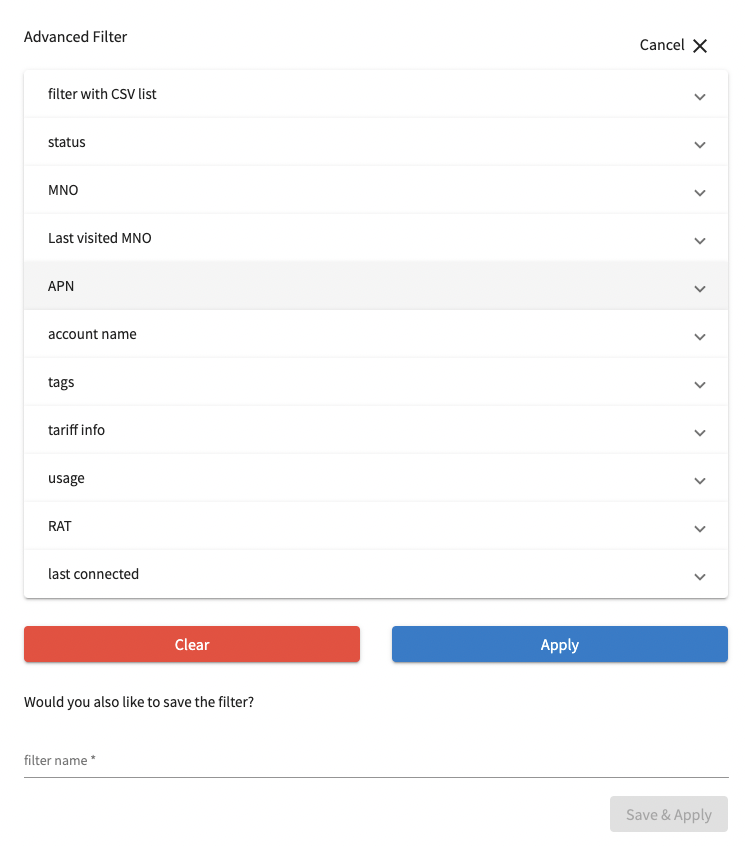 It allows users to create a filter based on the following data:
A list of ICCIDs, MSISDNs, CSD numbers or private IP addresses. This list can be loaded either by uploading a CSV file or by pasting a list. The list can also be edited after it is uploaded or pasted.
SIM Status. Multiple SIM Statuses can be selected.
MNO. Multiple MNOs can be selected.
Last visited MNO. Multiple MNOs can be selected.
APN. Multiple APNs can be selected.
Account name. Multiple Accounts can be selected.
Tags. Multiple Tags can be selected.
Tariff Info (see note below). Multiple Tariffs can be selected.
Usage. A range of usage can be applied by moving the sliders. Fine adjustment can be achieved by using the left and right arrows keys.
RAT. Multiple RAT types can be selected.
Last connected. This is filtering according to the last time the SIM was connected. The following options are available:

Now
Not now
Within the last 24 hours
Not within the last 24 hours
Within the last 48 hours
Not within the last 48 hours
Within the last 7 days
Not within the last 7 days
Ever
Not ever
If you want to re-use a filter, you can save it and give it a name. Why not make a filter to save time and reduce the number of clicks? You can also make a filter the default, so that it is remembered when you log out and log in. For more information see What is a Default Filter?.
Did you know Filters are very powerful for Self-Provision customers? It can help control and record what has been provisioned.
Note:
Tariffs are only available to direct customers.
The list of Tariffs available for filtering only includes those which have SIMs associated with them.