The user can run diagnostics to determine the status of a SIM and whether it is reachable using ping. If the SIM is unreachable, and it is from a MNO that supports SIM Refresh the user is able to send a Mobile Network Refresh to the SIM. For a list of MNOs that support SIM Refresh see What are the SIM Capabilities?
Please note: A Mobile Network Refresh causes any existing data session to be immediately terminated and the SIM to be disconnected from the Mobile Network. When a device detects the disconnection it will normally attempt to re-connect. If the SIM has not been Blocked, Suspended or Terminated, then the re-connect should succeed.
Here's how to use the diagnostics feature:
In the SIM List click on the SIM for which you would like to check the status.
Select 'Diagnostics'.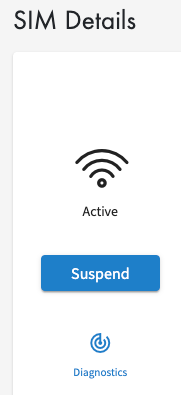 This will then check the status of the SIM to ensure it is Active.
It will then ping the SIM and the results will be displayed as shown below: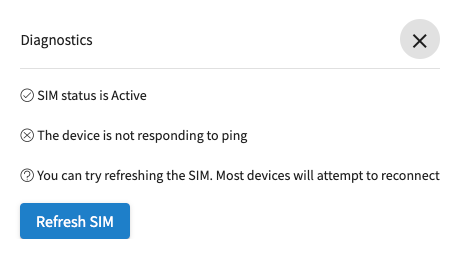 If the device is not responding to ping, and the MNO supports SIM Refresh, you can click the 'Refresh SIM' button to refresh the SIM.*
* SIM Refresh is only available for selected MNOs. See What are the SIM Capabilities? for a list.